Tess Electrical Sales & Services
Marine Electrical Services for the Yacht Industry
Tess Electrical - An Industry Leader
Tess provides diligent work and services to the yacht, mega yacht, cruise ships, commercial vessels and other clients around the world. Our team is able to work quickly and efficiently within a yacht's tight schedules. We understand that the yacht is the owner's or charter quest's relaxation method and also the crew's living and workplace. Our motto is "Our Strength is our Commitment to Service" and we live by that.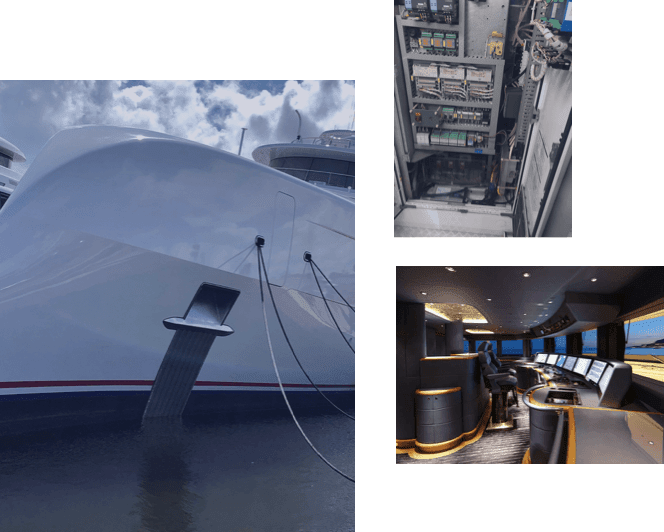 Working With Tess Electric
When it comes to crunch time the last thing the crew needs to be concerned with are onboard electrical systems functioning properly with us as there preferred contractor they will understand that we have their back covered. At Tess Electrical, we pride ourselves on going above and beyond what is normally expected in the marine electrical services arena. Our clients feel safe and confident with their vessels, and their crews can focus on providing their guests with the service they deserve.
We specialize in Engineering, Alarm and Monitoring Systems, Generator power management systems, switchboards, shore converters, control panels, load banks, DC systems, and general electrical service work whether repairs, retrofits, or new construction. We have become highly diversified and hope to provide for our customers and have the ability to handle all facets of yacht installations including; Marine & Shore.
Our Areas Of Expertise
We specialize in a wide variety of marine electrical and marine engineering services. Our primary service offerings are listed below, however, we do offer a wide array of custom electrical and engineering services to both land and marine clients.
Primary Engineering Services
Engineering & Design, Service, Green Technologies, LED Lighting & Control, Automation including Alarm, Monitoring, and Fire Detection Systems, Experience Harmonic Diagnostics. Our marine services and support extend to yachts, marine vessels, commercial vessels and more. We also provide land-based electrical services to marinas, shipyards, and general businesses.
Products & Brands We Work With
Tess Electrical works with a wide variety of premier products and brands. You can find a selection of some of our more commonly used products, electrical supplies, and brands below.
Marine Fire & Alarm systems by TYCO, ABB electrical components, Merlin Gerlin/Schneider, Telemecanique electrical components, Mastervolt and Victron Product lines chargers, converters & inverters, Vimar Products, Cantilupi Lighting Products, Roxtec | Rise Systems, Phoenix Contact Products, Northstar AGM Batteries, Rittal Enclosures, Class Approved IEEE Cable
Do Not Display My Email But Allow Users To Contact Me Via Contact Form
2900 SW 2nd Ave, Fort Lauderdale, FL 33315, USA

,

All Florida, Florida, United States

33315
			AD ID:44525